A Little Bit About the Villa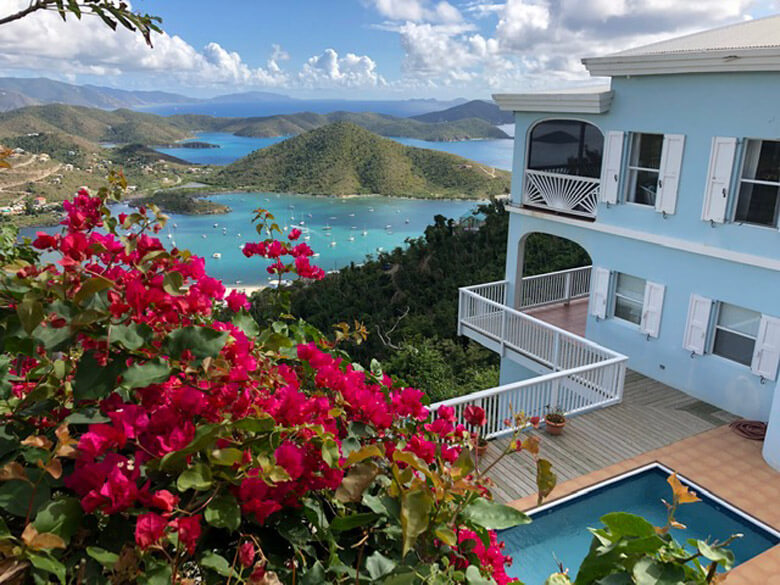 Boats moored in charming Coral Harbor, unspoiled National Park mountains, and the islands of the Sir Francis Drake Channel meet your gaze from every vantage point of this tropical retreat. Enter the front door, walk through the beautiful stone archway, kick off your shoes on the terra cotta tiled floors and relax! Perched among the trees on a lush St. John hillside, Waterlemon Villa has all of the comforts (but none of the cares) of home!
Villa Amenities Include:
Washer & Dryer
Microwave, Toaster Oven, Blender
TV, CD player, DVD
Internet
Cable
Beach Chairs
Beach Towels
Cooler
Iron & Ironing Board
Hairdryers
TripAdvisor Reviews
We're rated 'Excellent' on TripAdvisor!
Read visitor reviews with the button above.
You can prepare meals or just cocktails in the gourmet kitchen where tropical breezes blow steadily through the 3 pair of French doors. The adjacent screened-in 10 x 30 ft. porch offers superb outdoor living with a wrought iron dining table and chairs and a wicker set for curling up with a good book.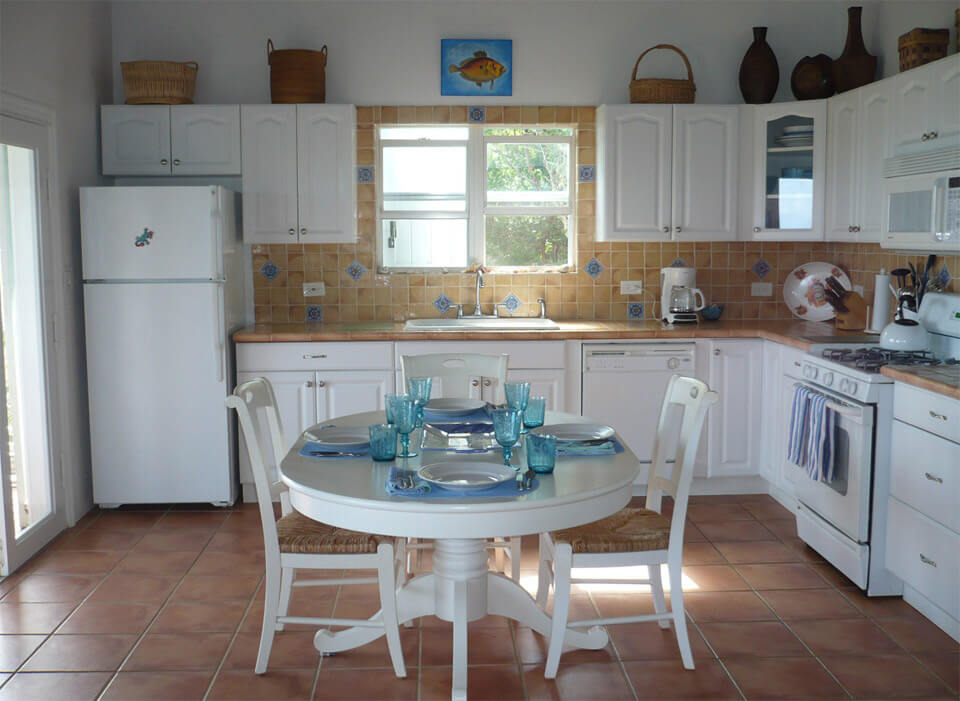 The upper level bedroom has twin beds that can be made up as a king and a white wicker bureau and nightstand. Across the hall is a full bathroom with a tiled indoor shower. Exposed rafters on the 16-foot ceilings complete the airy, Caribbean feel of the upper floor at Waterlemon Villa.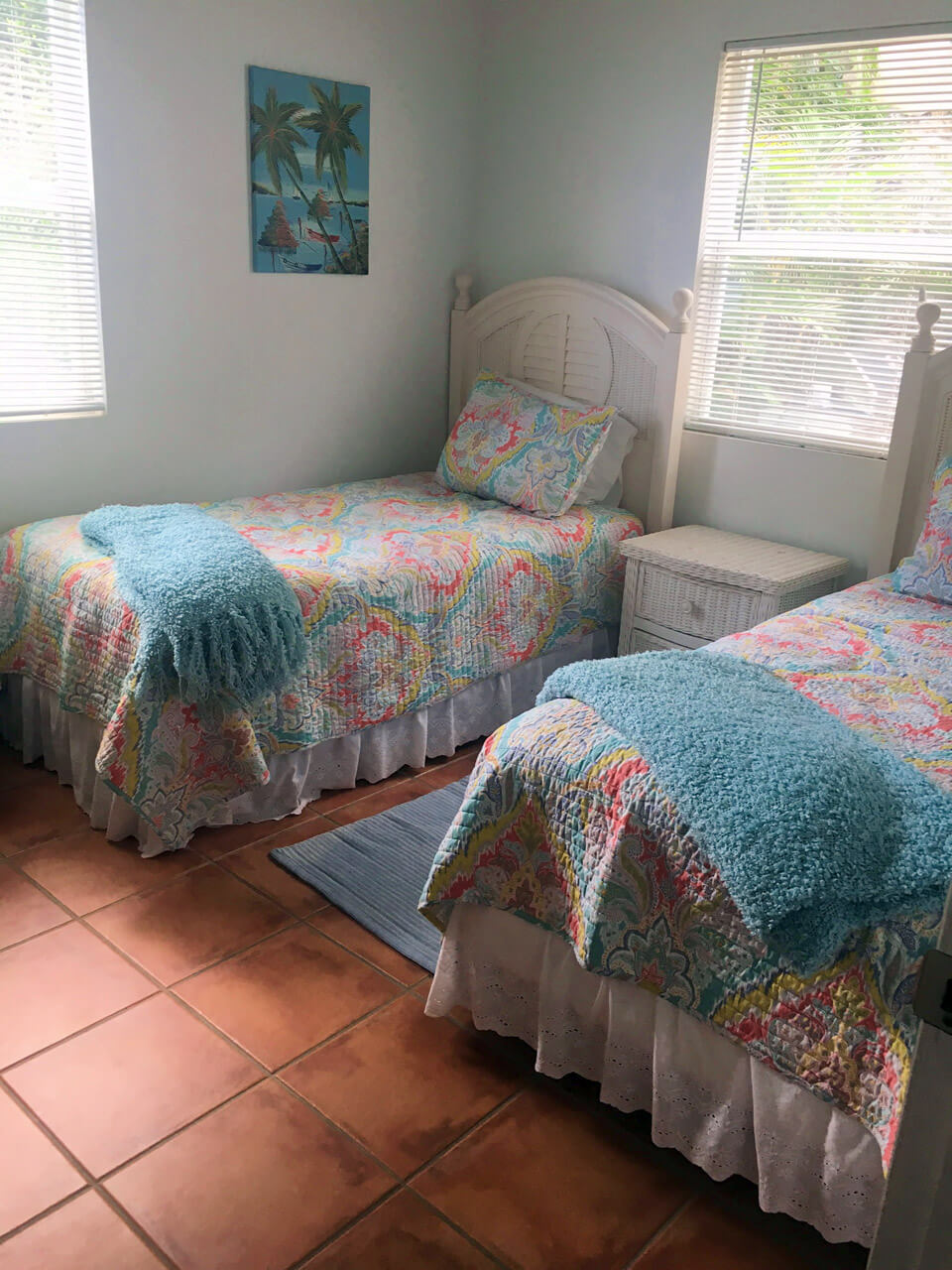 A mahogany staircase leads to the lower level where 2 master bedrooms are furnished with queen-sized mahogany four-poster beds. Each queen bedroom has its own en-suite bathroom with a private outdoor shower that is open to the sky with a window overlooking Coral Bay. Open your eyes in the morning to the view of the harbor and channel, then step through the bedroom sliders onto another 10 x 30 ft. porch with a book and a cup of coffee, or take a refreshing dip in the pool. Before you close your eyes at night, watch the stars and the lights twinkle. It is truly a magical sight.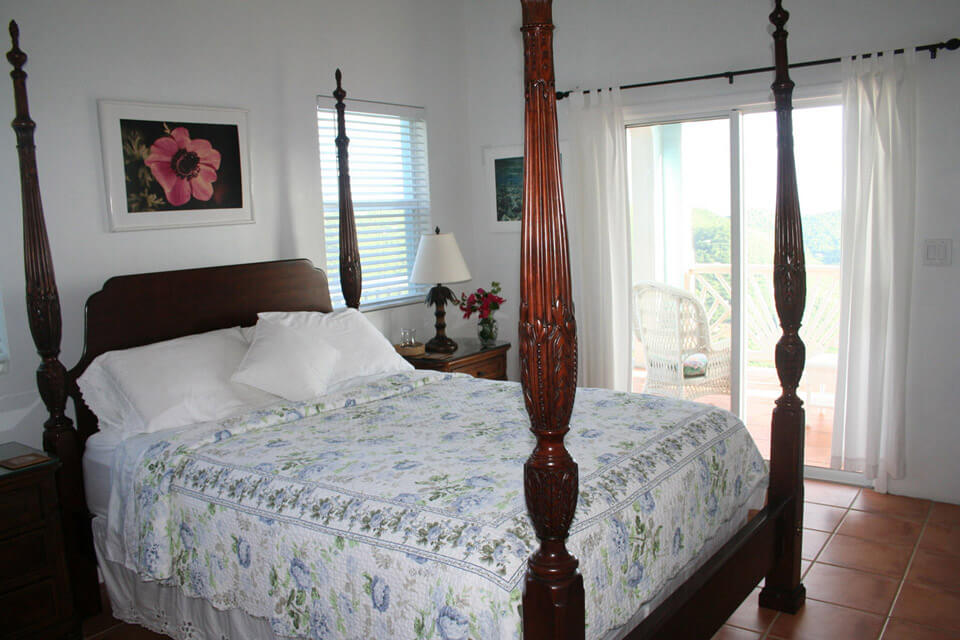 The 8×16 ft. pool is set in a tiled deck surrounded by lush tropical plantings. It is a lovely place to relax while the sun travels from east to west and sinks on the other side of Bordeaux Mountain. As the sky turns from blue to pink, you can choose from one of the 8 restaurants in Coral Bay or turn on the Weber grill. There are 2 small grocery stores in Coral Bay, as well as the fully provisioned Starfish Market in Cruz Bay which has everything you need to prepare a delicious meal.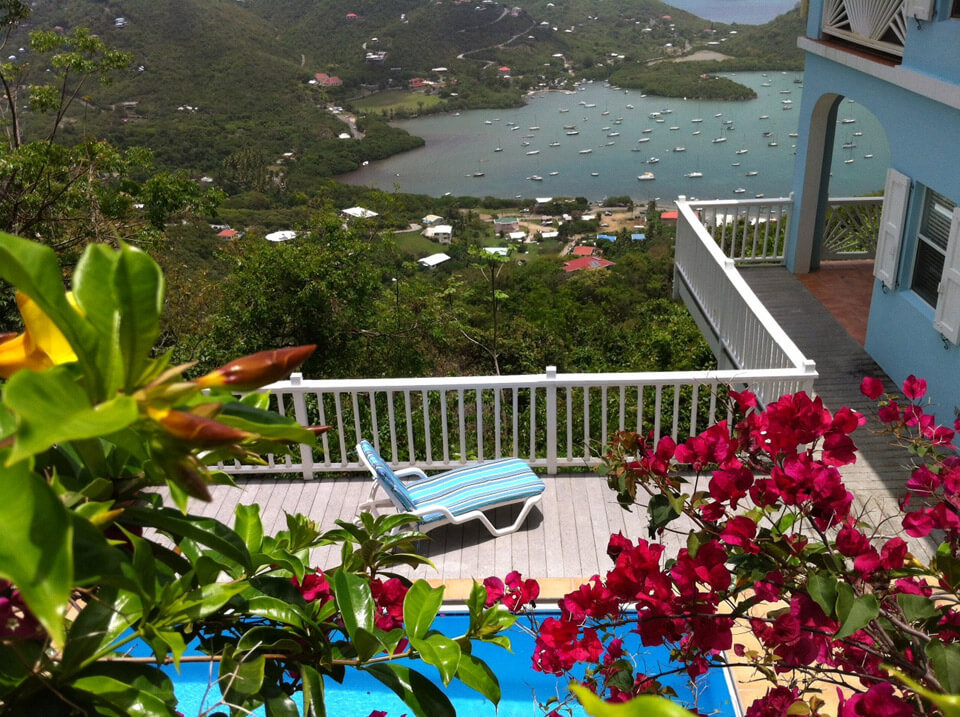 Beaches are breathtaking and pollution-free in St. John, and a 10-15 minute drive from the Villa gets you to most of them. Several beaches have food and/or restroom & showering facilities as well as snorkeling right off the beach. All of them have the crystal clear aquamarine water that lured you to the Caribbean in the first place.
Getting to Coral Bay and Waterlemon Villa is an easy 20 minute drive east from Cruz Bay on winding, scenic Centerline Road. Come and visit soon; Paradise is calling…
Waterlemon Villa is a no-smoking, no pets property. Children 8 years and older are welcome. The driveway, porches and pool deck have railings and heights that are unsuitable for younger or explorative children.